After about six months volunteering at de Young Museum, it has become one of my top 5 destinations in San Francisco. It doesn't have the largest art collection or the most prestigious in San Francisco. But it is the atmosphere, the location, the fantastic Golden Gate park around, the people that make it a top destination. Visiting SF MOMA can be a very stressful experience while visiting de Young recharges my batteries.
Yet, there're a few things that can dampen your experience visiting de Young. In this guide, I would like to share my secrets with you and hope you have the best experience visiting this beautiful museum.
1. PARKING
Parking at de Young museum can be a bit intimidating. You have a few options, parking in the garage or free parking in the Golden Gate Park. Parking in the garage is the first option that comes to mind. But for $5/hour, Music Concourse Garage is failry pricey. It probably has better security, but note that car break-ins happen there as well. If you'd follow my recommendations and spend more than 1-2 hours in the museum, the other option is free street parking. But first, a few important rules.
Rule #1: don't leave anything in the car (and I mean anything, including your jacket, car charger, coins, etc.). Yes, San Francisco has a serious problem with car break-ins. And that can really ruin your visit. You can store things in the trunk, but better do it even before you park. For us living in SF, this is nothing new, but most people visiting San Francisco really underestimate the issue. The situation has been steadily improving, but the Golden Gate Park is still one of the top 3 areas targetted by the criminals. So, again, don't leave anything in the car visible from the outside.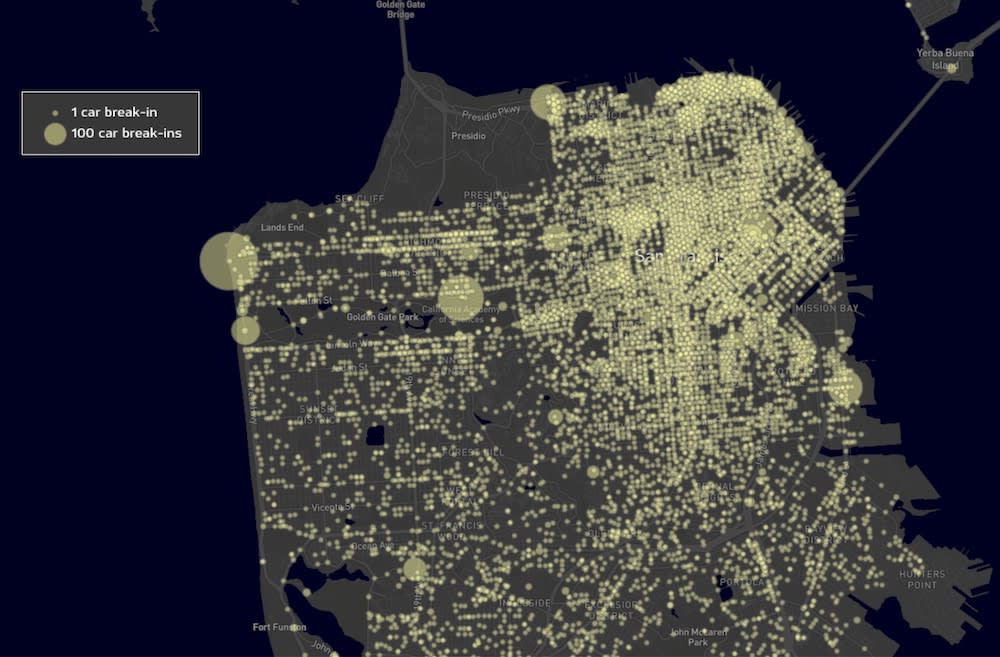 Rule #2. Please park in a well-trafficked area where people can see your car. Potential criminals don't like witnesses. You can either park in the underground garage or on the street. Free parking is on JFK drive for 4 hours (usually quite safe, in blue below), or on Stow Lake Dr free all day (pretty safe and a lot of cars parked close to the Japanese tea garden, in orange below). I parked my car in both places many times, and never had an issue (or have seen broken glass) in both locations. Plus, both are very pretty places, esp Stow Lake with ducks and swans.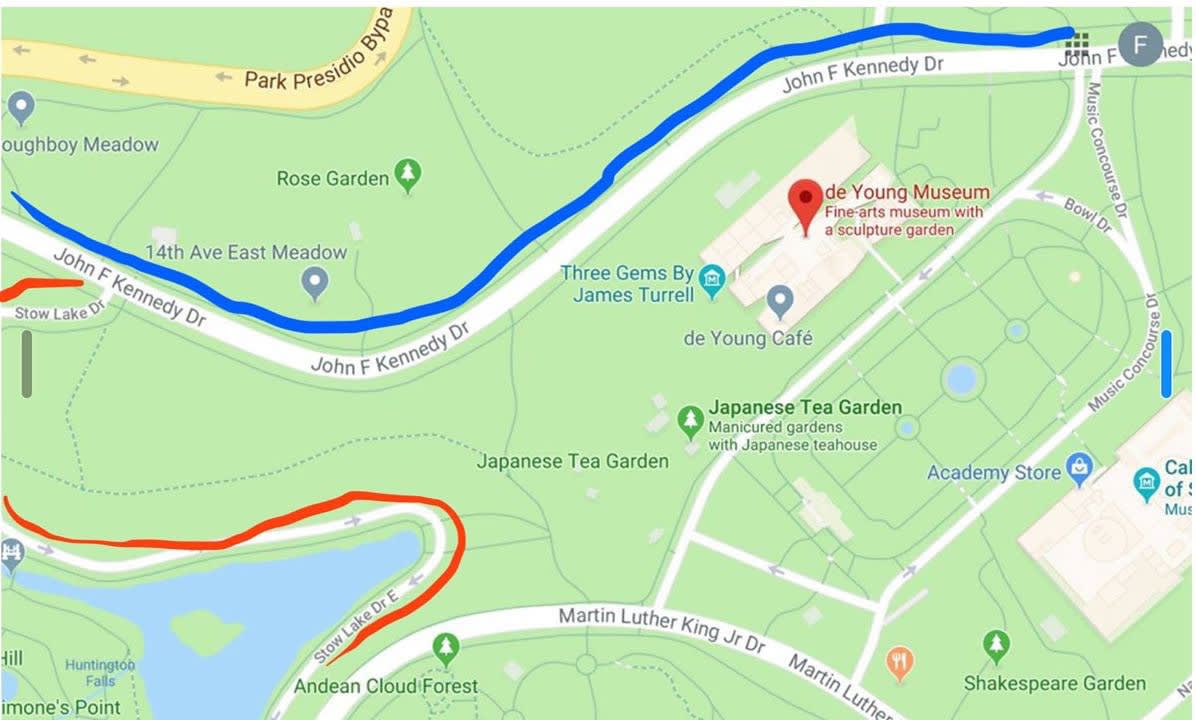 2. BUYING TICKETS
Standing in long lines for tickets is the 2nd most frustrating experience I have seen for visitors. Luckily, it has a simple "fix>
Rule #1. Buy tickets online ahead of time. Unless you like to stand in line, I highly encourage you to
purchase tickets online
and buy it directly from the de Young website. Lines at the ticket office are notoriously long and not super efficient.
Rule #2. Make sure to get the right ticket. General Admission ("GA" code on the ticket) doesn't get you admission to special exhibitions, like Monet, for example. So if you came for a special exhibition, make sure to pick the right one. For example, if you came for Monet, get Monet ("M" code). In almost all cases I know,

the price of the special exhibition includes GA

(General Admission). Also, Special Exhibitions like Monet often have a specific time slot to attend, so please pay attention when getting the ticket and come on time.
3. DOCENT-LED TOURS
I highly recommend to sign up for a free docent-led tour to special exhibits, like Monet. Docent-led tours are free with your ticket but are only organized at 11:30 and 1:30 pm, AND you need to sign up for them in person. They are usually limited to 20 people, so I'd encourage to get to the museum ~30 minutes early, ask the Information Desk to sign you up for the docent tour, and explore the rest of the museum for 30 minutes.
4. DE YOUNG TOWER
A bit of hidden jewel and is not too easy to find, but I do recommend taking a few minutes and explore the 144-foot de Young Tower, officially named Harmon Observation Tower. Escape the hassle and bustle of the first two levels to the 7th with serene, panoramic views of the city and the Golden Gate Park. Oh, and you can visit the observation tower for free, without the paying for the ticket(!). Some of the best selfies and photos of SF are taken here :)
5. CAFETERIA
There is only so much art one can take in. So after an hour or two in the museum, head out to the museum cafeteria. It's pricey, but you can comfortably sit either outside or inside, bring some snacks with you, drink some (free) water, and relax for some time. One of the better spots for people watching in the museum. Well rested, head back in for some often-missed yet not as crowded and very lovely exhibition of contemporary art, right next to the cafeteria.
6. SCULPTURE GARDEN AND THREE GEMS
Another part of de Young that is often missed, but worth a quick detour: Barbro Osher Sculpture Garden located outside of the cafe and hidden in the garden an intriguing "Three Gems" building by James Turrell. I can only spend an hour, two max in a museum, but take a quick break in the outside cafe, inhale some fresh air, and I'm ready for more art.
7. JAPANESE TEA GARDEN, STOW LAKE, AND GOLDEN GATE PARK
Absolutely not to be missed is the area around de Young, the underappreciated and stunning Golden Gate Park. Japanese Tea Garden as mysterious and pretty, as one can only imagine outside of Asia. While Stow Lake will remind you of a 19th-century city and other attractions in Golden Gate park that can complete a perfect day in the museum.
8. LEGION OF HONOR
So did you know that the same de Young ticket will get you to Legion of Honor on the same day? Yup, save some money and hit two museums with one ticket. Note, it covers only GA (General Admission) cost; you might have to pay a little extra for Special Exhibitions. Or, if you are lucky, can you see Monet, Gauguin, and Rubens special exhibitions for the price of 1? I don't know, but do tell me if that works.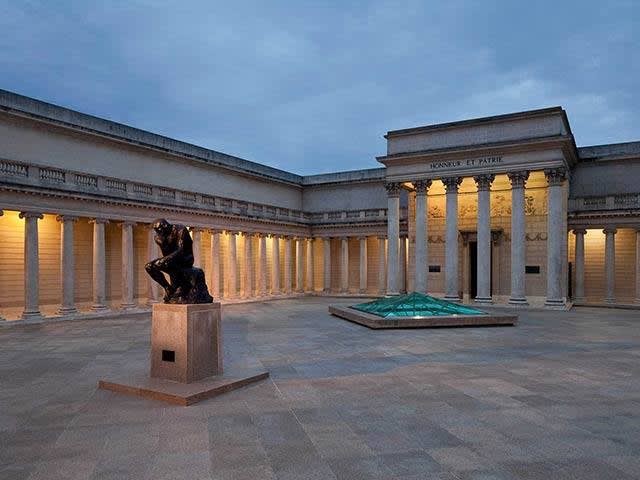 9. FREE SATURDAYS FOR BAY AREA RESIDENTS
Yes, free Saturday for SF Bay Area residents is the new program launched this April of 2018 at de Young. If you reside in San Francisco, Saturday is a great time to visit the museum, and the entrance is absolutely free. Well, perhaps except for the Special Exhibitions (I'll clarify soon).
10. FREE FIRST THURSDAY OF THE MONTH
And for EVERYONE, every first Thursday of the month, free admission to permanent exhibitions (special exhibitions are extra, but often are discounted).