Whether we like it or not, Facebook is used by more than 1 billion people daily. For any artist, it is essential to be on Facebook to promote their work, to have more people see it. In this article, I will share some of the tips for artists on how to make their Facebook page should look like to attract more visitors, art collectors and supporters.
Your Online Persona
If you are an artist, let's be honest:
People will look for you on Facebook
People will look for you on Instagram
People will Google you
People will research you (but won't always add you as a friend)
I think the reality in 2020 is that people will make an impression of you based on your online persona. Most often than not, they will make that impression even before they meet you in person. And if you are an artist, making the right impression on Facebook should be important to you as well.
1. Why Facebook?
For the sake of this article, let's assume you, as an artist, like to make art. And to make art, you would like to spend more time making art. And to spend more time, you would like art to make you money. If that's the case, then you probably want more people to see your work and to know about you.
But, I hear the following statement made too many times or variations of it like "I don't want to get into political arguments with people".
True, there's a lot of marketing, and politics, and negativity on Facebook. But the fact remains that it is still the most widely used social network in the world and if you'd like to reach your prospective art collectors, you have to be there. If you don't promote your art on Facebook, you are only reaching out to a small fraction of people. Despite all of its bad publicity, for now, there's no replacement:
Facebook share is quite high in the US, but overall even higher in other parts of the world. Yes, art probably fits better on Instagram (and I'll have another article on "Instagram for Artists" soon), but Facebook still dominates by far.
2. You are a brand
It is probably hard to admit for many, but as an artist, you're a brand. And in this day and age, people have certain emotions about a brand. We associate brands with certain features, certain tone, certain values, certain color pattern, certain personality, certain uniqueness. And while large marketing teams working for big corporations try to create this personality (out of thin air) for a corporation, you as an artist don't have to work as hard. You're a person already (are you? :) and your art speaks for you louder than anything.
So what do people look for in a brand on social media?
Honest. Friendly. Helpful. Funny.
Simple as that. This is the impression they would like to walk away with when you meet you (online) for the first time. This is the impression that would bring them back to you and make them click that "Follow" or "Like" button. And putting that "AdMan" hat on, I think that's what we want.
Another chart worth reviewing. What should artists do to get people to make a purchase?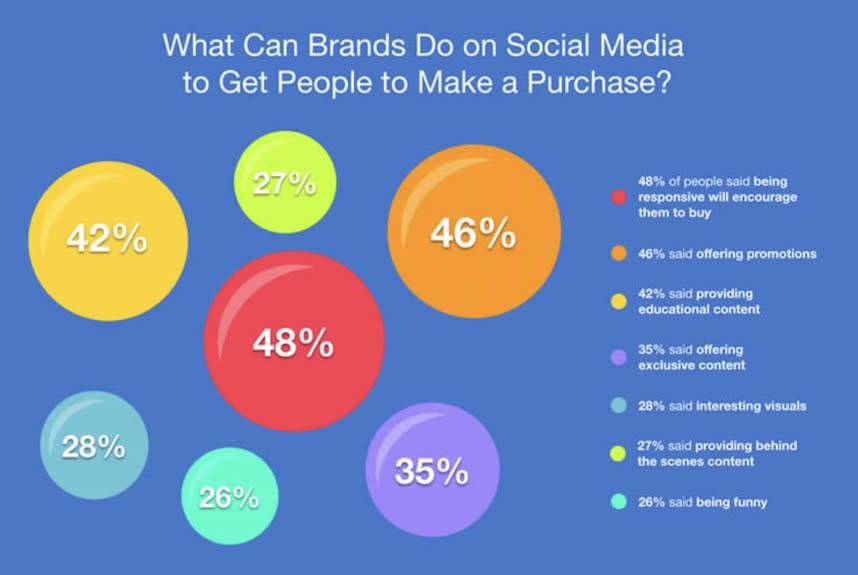 Be responsive
Offer promotions
Provide educational content
Offer exclusive content
Personally, I cannot agree more with #1. I don't see how not responding to messages can lead to sales. Yes, I still remember a few artists who ignored my messages. Yes, I am still bitter :)). And while "promotions" are not commonly heard in the art world, I am all for more "educational content" from artists. Anything from how you paint, what oils you use, why you're painting this way, and not the other is educational and usually increases the value of your work. You're a magician at work and who doesn't like to go behind the scenes and see how "magic" is made.
Before iPhone commercials became too repetitive, early Jony Ive commercials emphasize specifically that: how iPhone is made. And that made us all think that an iPhone is the result of sophisticated engineering and even a piece of art:
3. Your Facebook Front Page
Getting back to Facebook, so where do we start? Let's start with your Facebook front page because it is the very first thing people see. Your Facebook front page is:
Your resume
Your art portfolio
Your page in the yellow pages
Your Yelp review account
Your website (at least an additional)
And thus, it needs to have all of the ingredients of the items above.
Let's look at some examples of good Facebook front pages: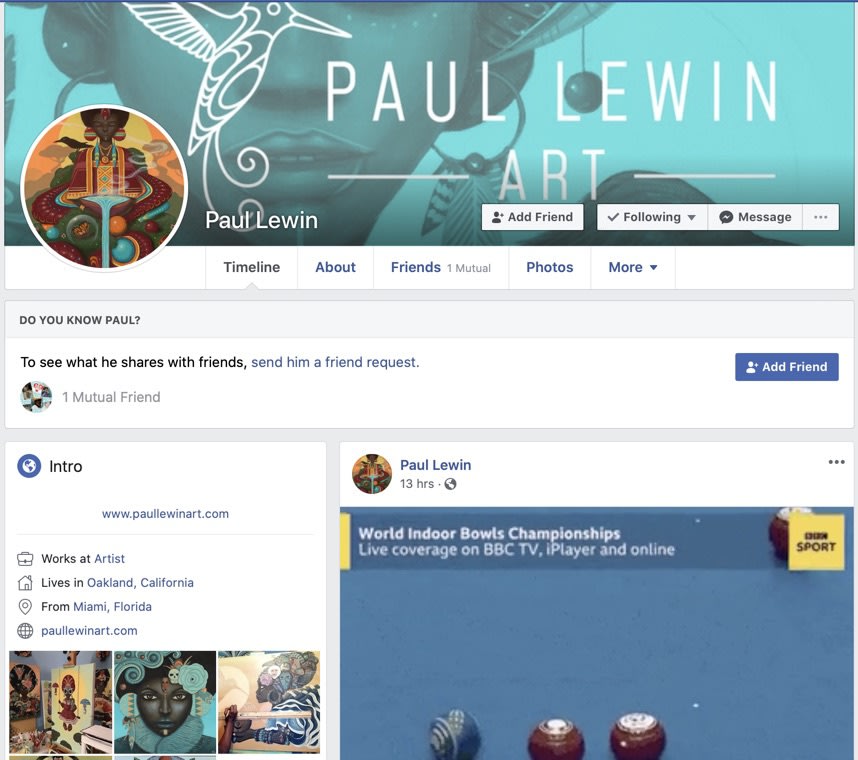 Nice, clean design. Points to the artist's website. His best work. Basic biographical facts. "Follow" button.
Next one is by Phil Dynan:
Same as Paul's. Plus a nice "Intro", cover art and a recent post.
Next one by a popular Heather Day from San Francisco:
Even more info, plus her education is specified. A lovely photo with her, her friend and her artwork in the background. Little details matter.
One more, by my friend, Slava Korolenkov from Russia:
What were some of the first things you noticed on his FB page? I noticed his avatar, the portrait of a girl on the right (his favorite!) and his number of followers. 10,362!! I wish I had so many :). But, it means he's popular and well-liked.
Ok, so let's now look at some of the Facebook profiles that maybe not as clear or can be tuned.
For the first one, a friend of mine referred me to this artist:
My first impressions:
is he an artist or a gardener?

Not his real name. What does he have to hide?

next to nothing information about him except that he lives in San Jose

No "follow" button
So grudgingly, I pressed the "Add Friend" button (I'd prefer to "Follow" him instead), and.. two weeks later, he added me as a friend.
Let's look at another one:
It is a better one. From the cover page, I see that she is an artist or an art lover. But I'm still a bit confused.
4. What your facebook front page should have
Far from being an ultimate authority on this, here's my, art collector's, list of items that every artist's Facebook front page should have:
Your real name
Your best artwork as your cover photo
A recognizable avatar
"Intro" section with

Your education or other credentials
Where you live
Link to your art Facebook page
Link to your Instagram
Link to your website

"Following" button
"Featured" photos with your art
Let's review each one in detail.
5. Name and Cover Photo
Your name is your brand. If you sign your art differently than your real name, then maybe use that instead. Ultimately, it should be easy to find you.
Cover photo ideas:
Your best artwork
You and your art at an art exhibit
You in the process making art in your studio
And this is how you update it in Facebook, look for the "Update Cover Photo" button:
6. Avatar
I don't have the most descriptive avatar and change it once in a while. But here are a few good examples of my friends' artists' avatars. I think they're cool. I think they give me an idea of who they are. And I believe they are part of that online (and real) identity. If anything, it'll be easier to remember you.
7. Intro and Details
In the "Intro" and "Details" section, you can let your visitors know a few facts about you that they will remember. The "Bio" section is a one-sentence summary of who you and what your art is about. Honestly, I am struggling with this one. But it can always be changed later :)

Under "Details", I think mentioning your "Education" or other credentials works the same way as it would on your resume. "Current City" will give an idea to a potential client where you are. Should I call you? Will I meet you at the art fair nearby? Can I come to your art studio?

Next, links to your website and social media are important. These will drive traffic to them. In fact, I think your Instagram should drive traffic to your website (Insta only lets you specify one). Your Facebook to your website and Instagram. And your website to your Facebook and Instagram. And so on.
"Work" field makes it clear that you a professional artist. And it is not always clear. Some people can be collectors, some curators, etc.
For the three Intro sections below, the "Bio" of the middle and right one is more descriptive. While the one on the right has "Education" listed and followers.
So my recommended list for the Intro section is:
Bio (one sentence)
Work (can link to your art page if you have one on FB)
Education (or other credentials)
Link to your website
Link to your Instagram
Followers (optional, if you have many)
Hometown (optional)
8. Featured Photos
One last section on the front page that has been newly introduced by Facebook: Featured Photos. It is displayed right below the "Intro" section and above your regular "Photos". The idea is to give you full control of what photos your visitors should see first. Should they see your latest dog photo that you just posted, or you exhibiting at a major art fair?

My case below isn't perfect, but this is the continuation of my resume. Facebook allows 9 featured photos, and you can use this space to show your best work, your studio, your photo, your art exhibit, etc. We are highly visual creatures, and most likely, your visitors will remember this section more than others.
9. Facebook settings
Finally, let's go over some important Facebook settings you'd like to set. The emphasis here is on providing the right balance between privacy and visibility.
First, timeline and tagging settings:
We probably don't want to let people who don't know us ("Public") to post on our timeline. But, we DO want others to share our posts (visibility, with credits included). And some people like to tag us way too often, so let only show those to our friends and not the entire world (imagine an awkward birthday photo here :)
Next on to Privacy:
This one might be contentious, but if your Facebook posts are mostly about art, why not make them "Public"? Public posts will be visible even to those who aren't your friends. If you an artist, people should be able to find you by your name on Facebook, but I am not sure if everyone should know who my friends are. The last one probably should be "Yes", i.e. we would like Google to find our Facebook profile (again, visibility)
Finally, who can follow us?
Remember that "Follow" button that some artists profiles had? This is where you can turn it on. I think it's a must-have. You'll have a lot of people who you may not know and who may not want you know they are following you. So they'll avoid adding you as a friend but will click that "Follow" button. So I'd turn it on.
10. BE NICE, BE HUMBLE, BE FUNNY, BE YOU
And finally, finally.. are you still reading this?? Because I know I am tired of typing it :). One piece of advice I received from my friend who has 5000+ followers on Facebook and 20,000 followers on Instagram:
Be a sweetheart!
Remember what people wanted brands to be on social media? Yeah, no surprises here: Honest, Friendly, Helpful, Funny. And a sweetheart should have all of that.
And don't be this guy. Oversharing? maybe :)
Well, I abused my sweetheart privileges, so that's all for today.
Please leave comments below on what I missed or what you agree or disagree with.
Art House SF
References: